micah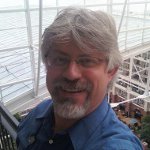 I am a network and systems professional for Access-Interactive, LLC in Novi, MI, where I have been employed since 1989. During this time I have done everything from building computers, to network implementation and administration, to web design and software development.
For eighteen years of that employment, I have been working as an outsourced IT staff member of the Office of Information Technology Services at Henry Ford College in Dearborn, MI, where I currently serve as the Web Architect.
I am an audio volunteer on the Production Team at The Cornerstone Church of Highland, MI. I also perform some volunteer IT consulting at the church, including firewall, internet content filtering, and web development.
I am happily married and the father of two awesome daughters.
I am an advocate and evangelist of the Drupal Content Management Framework, and have submitted comments and patches to the issues queues for several contributed modules.
I am known as micahw156 on most social networking sites. (W156 is the Soundex code for my last name.)
I am an Ohio native and thirty-plus year Michigan resident.
High school and college friends will most likely remember me as Mike Webner. I switched back to using my given name in my twenties while working at several small businesses that already had too many Mikes working there.