A Night of Different Perspectives
Submitted by
micah
on November 24, 2008 - 10:17pm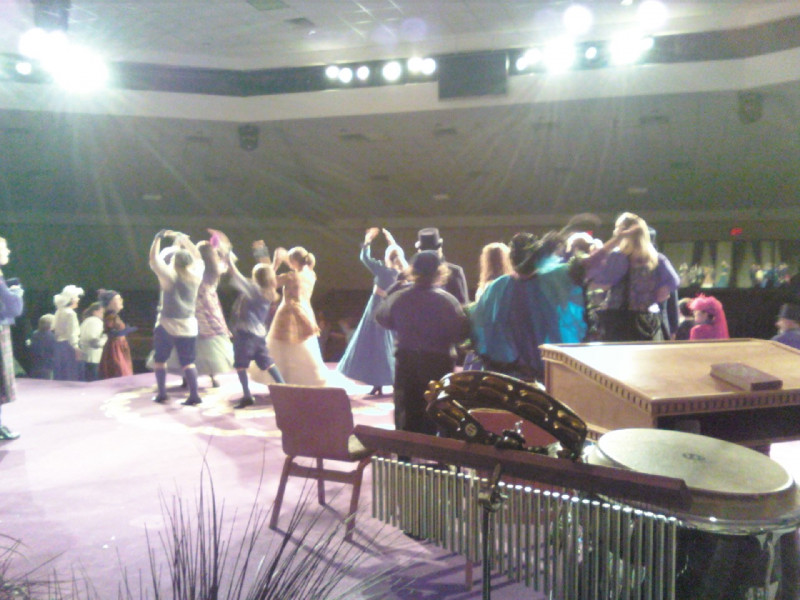 Tonight's rehearsal of our annual musical drama, A Christmas Tale, was a night of different perspectives. I wasn't really thinking when I snapped this photo with my cell phone, but it fits.
When we started out tonight, neither of my lighting guys were there, so I stuck my teenage daughter on the light board, where she did a great job of being mature and attentive, following cues without error. She worked backstage last year, so she saw a new perspective on how lighting tied in to the portions of the show where she'd had to move props on- and off-stage in the dark last year.
When our regular lighting operator arrived, I had him call cues for my daughter rather than take over operations. He commented afterward on how different it was to call the cues than to just be watching, waiting for and executing them.
Our lead sound guy got stuck late at work, so the guy who's usually the helper and coordinator ran the mics. He wanted the practice in case he ever has to run a performance. He commented afterward that he now understood why his counterpart chose a certain work flow over the way he has run things himself in previous years.
When he arrived, the lead sound tech took the opportunity to sit in the house and watch the rehearsal. He said that now he really understood a few things that I've tried to explain to him in the past, because sitting in the house just doesn't sound the same as sitting behind the board.
We've grown a really consistent core team over the past few years, and that team has settled into a pattern that allows us to quickly fall into place for each season. Early full cast rehearsals have gone from really horrible in the early years to very smooth these days. (We don't do a true tech rehearsal until the sets are constructed, but we run partial tech for all full cast rehearsals.) In the past couple of years, I've learned to get out from behind the tech area during rehearsals to observe and absorb, but everyone else usually stays in their regular positions. It served us well tonight to shake things up a little and give everyone a fresh look at things. I think the performances will benefit from things we all learned tonight.