Clickin' It Old School
Submitted by
micah
on October 31, 2008 - 9:25am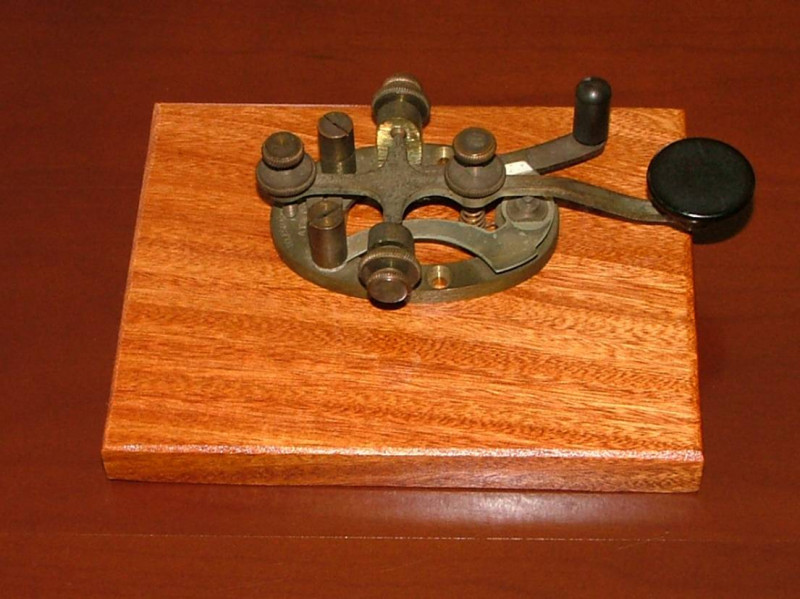 It's sometimes hard to remember that "instant" text messaging has been around for a long time, and that text messaging is far older than voice technology for long distance communication. The difference today is that text messaging devices are wireless, and don't require intensive training and study to be used.
My great-grandfather, Rush Webner, was a telegrapher for various railroads, including a 36 year stint as agent-operator for the Wheeling and Lake Erie station in Smithville, Ohio.
My cousin Eric sent me this picture back in the spring, but I keep forgetting to post it. I was reminded of it by a clip from the Tonight Show featuring a head-to-head competition between text messaging and Morse Code. Eric sent the following information along with the photo:
A number of years ago, Great-Uncle Dick Webner gave me one of two telegraph keys (Uncle Terry, I believe you have the other key) that Great-Grandfather Rush used while working on the railroad years ago (presumably at Smithville Station). I have always wanted to restore it and mount it on a nice wood base. It is a terrific key, and in very good shape, so my intention is not just to make a nice memorial/collector piece, but also to use it with my ham radio station.

This project finally got off the "back burner" when I met a ham in New York who makes bases for telegraph keys out of exotic woods. The picture below shows the base he made for me using Santos Mahogany, a very hard, dense and beautiful wood. The key has not been restored yet, but will be "polished" using non-abrasive methods. Mechanically, this Western Electric key works perfectly.
In a reply, my Uncle Neil added some additional details and speculation about Rush and his keys:
...but consider that perhaps Rush took this key with him from his Morse code lessons in 1891 from cousin Willis O. Walton, to Kentucky and Ohio with the Pennsylvania RR, to the Illinois Central stations in Kentucky and Tennessee, through several assignments with the Pennsy, and finally to the Wheeling & Lake Erie. But that was a short stint, as he opted for the more money offered by the Pennsy and went back to work for them at Summit Station just south of Smithville. That was apparently just a short assignment as he went back to the WLE in 1904 as Smithville's agent-operator where he stayed until his retirement in 1940, interrupted by two years in Orrville.

So I don't know -- maybe he took his keys with him wherever he went as "tools of the trade". Makes sense, because how else might he have ended up with them at his retirement -- oh, maybe they were practice keys he kept at home....?